Enter your PIN
To complete this purchase, enter your PIN for VIVEPORT.
Forgot your PIN?
Description
[WINDOWS 10 ONLY: Please note, Tribe XR does not support Windows 7 or Windows 8.1. Please upgrade your operating system to Windows 10]

Hello DJ. Welcome to your VR DJ tool. 
 
Tribe XR features a fully functioning pro-style CDJ mix deck. Upload your own music and refine your own unique sound.
 
Gain access to learning resources such as video tutorials, interactive tutorials and a free 1-on-1 intro class.
  
Perform for friends and the world with native live-streaming integrations. We'll help you set up your own VR live-mix show with real-time support. You can even request to play a live set on Tribe XR's radio show.
 
Join our Discord channel and have direct access to the Tribe XR team, mentors and a passionate community of music enthusiasts.
 
Please note: This is an early access app and we are adding new features and refinements week by week.
What's New
Features
- 4 Decks: We've added a 4 deck DLC so that you can expand your musical style and fulfill your musical potential. You can layer in acapellas, add sounds effects or anything else you can imagine. Download the 4 deck setup from the equipment section in Tribe or from the DLC section on the store. 

 - The Helixx VR Raindow Decks: Celebrate the many colors under the sun with these custom Helixx VR rainbow decks. Big thanks to Helixx VR for being such an awesome member of Tribe and the VR community. 

- Updated Beat Sync Function: Now that we support 4 decks, we've updated the beat sync feature with sync and master buttons. Use the master button to set the current track as the master and the sync button to toggle the sync function. In the upcoming release, we'll implement the features for automatically switching the master based on how you interact with the decks.  

Fixes/Improvements
- Much faster load times and crash fix for large track libraries
- Fixed misc crashes
Downloadable Content (3)
You will need the base title "Tribe XR DJ School" in order to play the following DLC: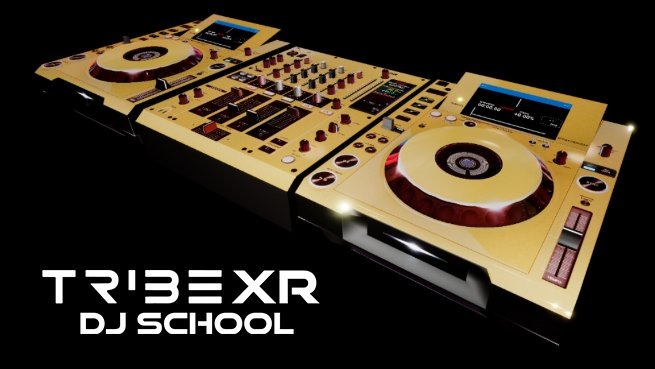 Special Edition DJ Trix Gold Decks