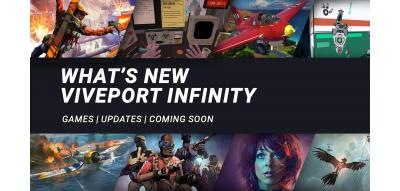 What's New on VIVEPORT Infinity: May 2022
We've welcomed huge new titles, bountiful updates, and lined up new games on the horizon this past month. Here's everything new that has joined and will be joining VIVEPORT Infinity.

Fracked, nDreams | PC VR
PSVR hit, Fracked, finally zips down onto PC VR, adding a truly explosive action-adventure to the Infinity lineup. You'll be uncovering the dark schemes of the Fracked, who are interdimensional baddies stirring up some Earth-ending trouble.
Fracked has nothing less than awesome action set pieces. When you're not skiing, ziplining or climbing your way through this adventure, you'll be ducking and diving behind cover throughout intense run-and-gun sequences as you take down the Earth-threatening remote fracking facility.
Annual Subscribers will be able to keep this title in their libraries forever – yes, even beyond their subscription term – if they launch Fracked at least once before 11:59pm PT on May 23. So get that Annual subscription and load up!
Area Man Lives, Numinous Games, Cyan Ventures | PC VR
Host your own radio show while investigating into the weirdo who keeps leaving voicemails in Area Man Lives.
You'll find yourself in the middle of a strange ongoing drama as the radio host in an odd town on the Oregon coast, using vocal feedback in-game to record radio ads and respond to incoming calls. Is he someone you trust, or do you want to ruin his plans? It's a lot of responsibility, but don't worry – you'll have your trusty monkey gloves to help you through it all.
Ultrawings 2, Bit Planet Games | PC VR Ultrawings 2 soared onto Infinity this month, making a huge comeback for the series since its first instalment back in 2017 for both PC VR and mobile VR devices like the Gear VR. As you can guess, the sequel has come a long, long way since then.
You'll have five aircraft to master across sevel hundred hand-crafted missions. From performing aerobatics to fulfilling optional combat exercises, you won't be touching ground for a while. Each plane is based off of its real life model, and Ultrawings 2 is made with physics at its core - however some tweaks have been made to make this simulation truly unique.
Unbinary, Ludact | PC VR
Webby may be a super AI robot, but she needs help fulfilling her purpose. Delve deep into the intricate workings of this sarcastic robot but be careful - she is controlling all of the other robots around you according to what she understands about human nature.
Robots around you will react differently depending on which of the three masks you wear. Choose wisely and explore how situations may differ depending on how you look.
Warplanes: Battles over Pacific, Home Net Games | PC VR

You are now entering the next era of air warfare in this next instalment of the Warplanes, taking you to World War II.
In the single player campaign, you'll be stepping into historic American aircraft and battling it out in the Japanese Empire. There's also PvP and Coop, where players can explore both American and Japanese aircraft, and go head-to-head online with friends or unknown pilots.
Pieces and Peace, VIVE Studios | Flow
VIVE Studios has launched Pieces and Peace, a 3D puzzler for you to sit back and unwind to – but that doesn't mean these puzzles will be challenge-free! There are three difficulty levels over four different puzzles: the Turtle, Squirrel, Watch and Parrot.
This is one to take at your own pace, balancing your inner peace with piecing together these gorgeous models.
Remembering, Monobanda | Flow
Remembering is for the Flow users who are into more abstract forms of entertainment. It's a dream-like trip about being born – no, this isn't Hideo Kojima's VR-counterpart to Death Stranding.
You're encouraged to sit or lie down for this one, where you'll be taken on a lucid, slow-paced journey of the beauty of conception and the trauma of being born. For the Flow users who aren't so much into abstract experiences, the visuals are incredible enough to pull you in alone.
Cosmic Flow: A Relaxing VR Experience, CosmicVR | Flow
This app is very much what it says on the tin. Take an audio-visual journey to massage the mind, developed by an artist as the first part of a VR series exploring connection and personal expression.
The aim is to relax the mind to better express itself. Ommmmm.
Wonder Atlas: Moments, Metanut Labs | Flow
Wonder Atlas is for those who want to explore imagination and creativity.
Take a trip through three different worlds: Growasis, where you'll plant trees to transform a desert into a lush forest; Fushigi Express, to ride through Japanese scenery; and Book Nooks, for those who want to delve deep into classic literature titles like Moby Dick.

After The Fall - Shock & Awe Update
Vertigo Games has been onloading a huge amount of new content in its Frontrunner Season, the first and completely free season the title has seen.
The 'Shock & Awe' update brings a great set of arsenals, including the Shockwave Power Device, Rage Booster, Warhead, and a Tommy Gun. Players can grind for floppy disks to claim these new items, which enable them to take on hordes of Snowbreed in new, impactful ways. Besides the new consumables and combat device, a free-for-all PvP mode and the 'Stockpile' PvP map are now added to the game as well. This new map is a repurposed warehouse that's all about close-quarter combat and lightning fast respawns with items that can be found scattered throughout the map.
Synth Riders - Lindsey Stirling Music Pack

Synth Riders has released a whole new music pack based on YouTube violinist superstar, Lindsey Stirling! The Lindsey Stirling Music Pack is available now, featuring 5 paid DLC tracks:
- Underground + Experience
- Shatter Me
- First Light
- Mirage
- Shadows
Yet more weapons have been added to Crunch Element, following last month's massive update. New secondary weapons have been added, including: S12 Shotgun, 1911 Pistol, and the X18 Automatic Pistol.
Other quality of life updates have been made, including showing related weapons in the Operations shop, grabbing of weapon slides to be done with the trigger while rifle magazines with grip, and there are new hideout graffiti tags and Kickstarter plaque in hideout.
Saber Fight VR continues to grow in both content and quality, and its latest equipment slot update brings the title up a notch. Players now have belt slots for easier and more accessible stashing of sabers when they need to use the force. There have also been updates to the Sawdrone to make them overall better.

Mare, Visiontrick | PC VR

Discover the secrets within when you wake up to the strange lands of Mare, embodying a mysterious bird. Your helpless, small companion needs help reaching the end of her journey, and of course this is only with the help of your guidance.
This ICO-inspired puzzler is joining on VIVEPORT Infinity next month.
Gardinia VR, VRFabric | PC VR
Gardenia VR is an indie gardening simulator, something for the more relaxed and laid back gamer. Help Wood Grandpa restore the island and watch the inhabitants return over time.
You'll get your hands on this garden sim sometime soon.
---
Join VIVEPORT Infinity to play the latest and greatest in VR, the only subscription for PC VR users - including Quest 2 via Link.