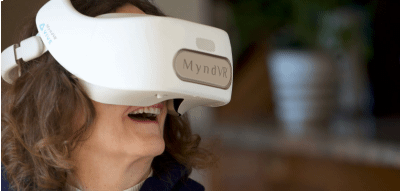 Virtual Travel: Don't Let COVID-19 Stop Seniors from Exploring the World
Author: Travis Lin
The tour bus was driving up the mountains and the tour guide stood at the front of the bus was telling some cringeworthy jokes. Luckily, the senior tour passengers on the bus seemed to be having a good time and had great interaction with the young guide. It is a typical slow-paced tour for the seniors, or what is sometimes known as "silver tourism". If your parents have just recently retired, you have probably heard about these social activities they go to almost on a monthly basis. However, following the outbreak of the COVID-19 pandemic, these trips designed specifically for pensioners have been paused. Instead, virtual travel has gradually become a viable option.
Virtual travel is a type of virtual reality (VR) applications that first emerged in 2016. With a VR headset on, you're ready to travel to any corner of the world.
When virtual travel first came to the market, it caused a stir and tourism operators worried that, with the new technology, nobody would ever want to travel abroad again. But soon, people knew that the worries were simply unnecessary as a large part of traveling involves physical experience and memories. Remember that time you forgot to bring enough money with you? Or the time your wallet was stolen? That day when the person traveling with you got sick and could only stay at the hotel? Or the humidity, temperature and smell in the air, the warmth of the sun and fragrance of coffee of an open-air cafe...? It takes both wonderful memories and terrible experience to make a trip complete. A few minutes' experience via VR doesn't even come close to its physical counterpart.
Nevertheless, under the circumstances, virtual travel can still offer unique experience. For instance, we can experience La Garma cave complex via VR while protecting cave painting from the Paleolithic age from the damages of tourist activities. While making a pilgrimage to Jerusalem has been made even more difficult during the pandemic, VR offers an alternative to the holy place for Christians, Muslims and Jews. The technology also offers an excellent alternative for the seniors as mentioned in the beginning of the article. With VR, they can continue to enjoy retired life despite the pandemic.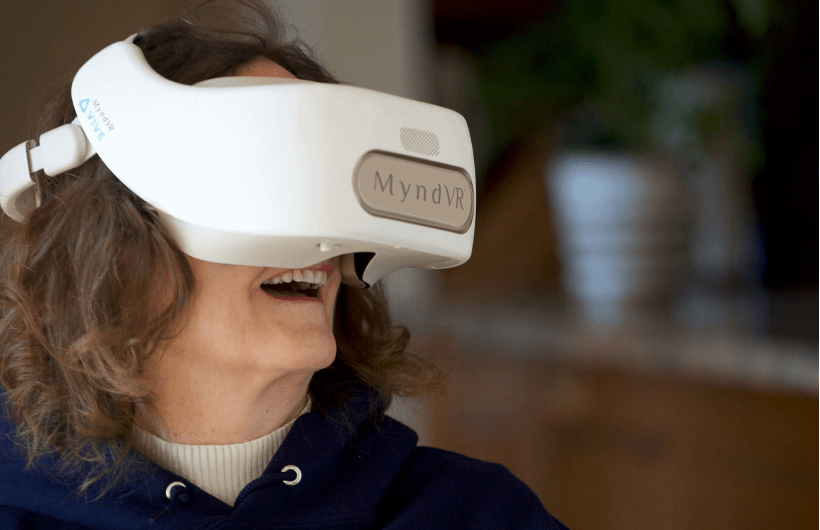 MyndVR, VR services tailor-made for seniors (source: myndvr)
MyndVR is a perfect example. MyndVR, a U.S. startup company focusing on providing virtual reality services for older adults, creates VR contents for seniors, offering them unforgettable immersive experiences that lift spirits and make them feel calm. Recently, Maple Knoll Village, a care home in Ohio, the U.S., has introduced MyndVR services in its community and the residents have become very fond of the new technology.
MyndVR just started a collaboration with the Virtual Human Interaction Lab at Stanford University, which invited the residents at Maple Knoll Village to participate in the new study. The collaboration gave the residents at Maple Knoll Village an opportunity to experience VR for the first time. Maple Knoll Village resident Roy "Scooter" Franks, aged 88, said he had never used any VR content before. This was what he said:
It's completely different than picking up a magazine or a book and reading it. You're still sitting in your chair or whatever. This (VR) creates an activity which makes you more active.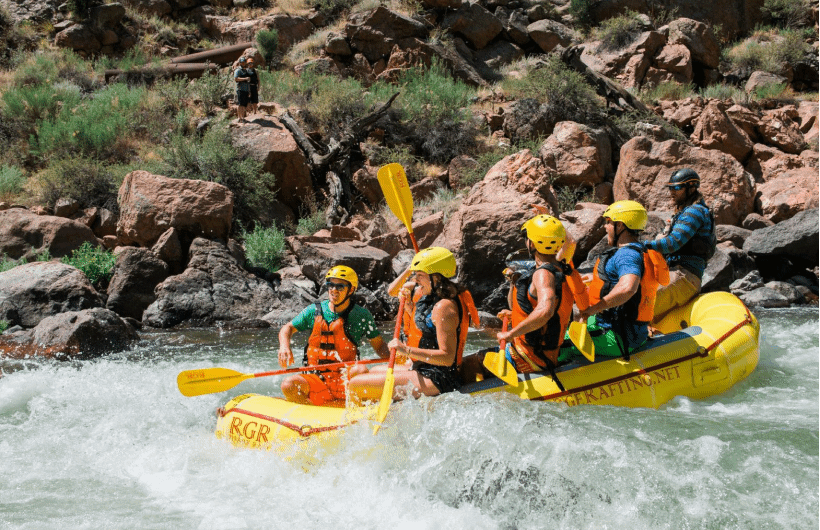 Colorado River rafting is not exactly what would be categorized as an activity for all ages (source: outtherecolorado)
However, when Mr. Franks was asked to pick one VR content he enjoyed the most, he chose Colorado River rafting. The other VR content popular among the residents was VR parachuting. Again, another adventurous outdoor activity. Andy Criag, Chief Innovation Officer of Maple Knoll Village, said he was very excited to introduce VR services to the community. He said:
Even before the pandemic, we do have some residents that aren't able to go to different events off campus or even travel throughout the country or the world. The idea was if you can't physically leave campus and enjoy the arts or enjoy travel, we can do that virtually.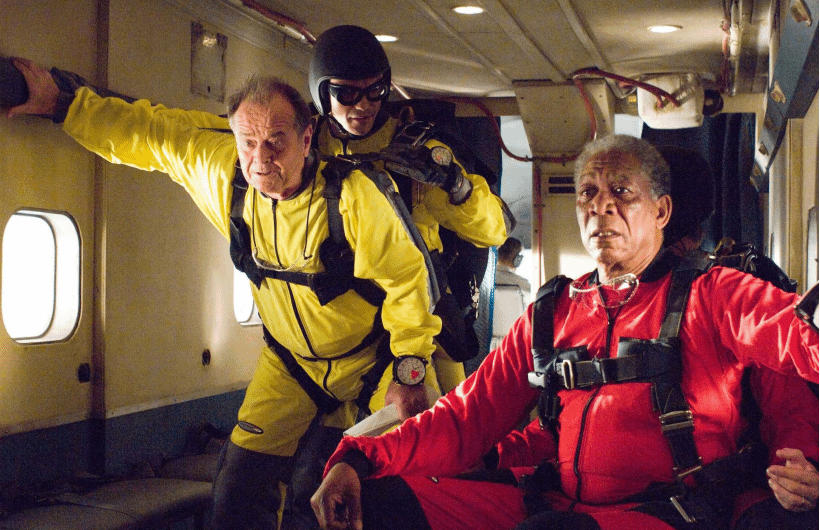 Any movie starring Morgan Freeman and Jack Nicholson should be on your must-watch movie list (source: thebucketlist)
It reminds me of the movie, The Bucket List. Whether people might see it as an inspirational story or not, the fact that it tells an adventure of two older people pursuing their dreams is already one that guarantees box office success. It is once said that, "you only live once." It implies that one should explore as much as possible while still being young, or not to have any regrets. However, for seniors with limited mobility, physical condition plus the pandemic have caused great hindrance, not to mention that there is no turning back time. Virtual travel, perhaps, is the best answer for now.