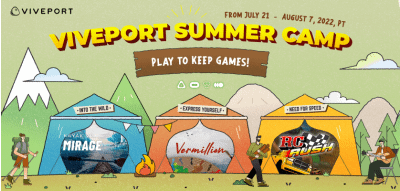 VIVEPORT Summer Camp launches with 3 new Infinity titles
Good morning, Campers! Take on three Summer challenges to earn yourself Badges and keep new VIVEPORT titles, or win a free month of Infinity.
We've got three new Infinity titles to headline each challenge: Kayak VR: Mirage, Vermillion, and RC Rush - featuring its own VIVEPORT Challenge Cup.
INTO THE WILD: 21 - 27 July
Take to the wilderness to claim Kayak VR: Mirage, the latest hyper-realistic paddling adventure from Better Than Life
EXPRESS YOURSELF: 28 July - 3 August
Get your Bob Ross on and claim Vermillion, one of the best VR painting titles from Thomas van den Berge
NEED FOR SPEED: 4 - 7 August
Put the pedal to the metal with these high-octane titles for a free month of Infinity
To take part, you'll have to:
1 : Sign up to VIVEPORT Infinity Monthly or Annual
2 : Play at least one title from each of the Badge collections during its challenge period
3 : Receive your prizes 10 days after VIVEPORT Summer Camp ends
When you sign up to VIVEPORT Infinity, not only do you have access to the Summer Camp offer, you'll also get to play the 100s of the best VR titles, including: The Walking Dead: Saints & Sinners, After the Fall, Wanderer, Fracked, and much more.