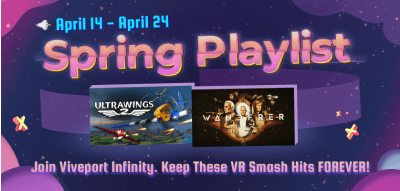 VIVEPORT's Spring Playlist Campaign Launches With 2 Huge Giveaway Games: Wanderer & Ultrawings 2
VIVEPORT has launched its Spring Playlist where subscribers can discover their next favourite game from its four curated lists: Into the Unknown, Better Together, Adrenaline Boosters, and Brain Engagers.
But wait, there's more!
Infinity subscribers will also have the chance to keep Wanderer and/or Ultrawings 2 in their libraries – even after their subscription ends.
Monthly subscribers will get Ultrawings 2, while Annual subscribers will get both Wanderer and Ultrawings 2.
To take advantage of this limited time offer, you'll need to:
Sign up to VIVEPORT Infinity Annual or Monthly before April 24th, 11:59pm PST

Launch Wanderer and/or Ultrawings 2 at least once before the end date
If you're already a subscriber, then simply launch the games within the offer time.

Wanderer, M-Theory, Oddboy
Travel across a chaotic alternate universe to piece together mysteries left by your grandfather.
Save a world from ruin while inventing alongside one of the most famous scientists, play at a certain 1969 concert, and explore space and time itself.
Ultrawings 2, Bit Planet Games
Take to the skies and put your piloting to the test in Ultrawings 2
You'll have five aircraft to master across sevel hundred hand-crafted missions. From performing aerobatics to fulfilling optional combat exercises, you won't be touching ground for a while.
This is the second giveaway campaign VIVEPORT has launched this year following the month-long After The Fall campaign in March for Annual subscribers. Join Infinity now to not only keep Wanderer and Ultrawings 2, but to get in on future Infinity deals.
*Wanderer will be available only to Annual subscribers during the campaign period (until April 24th, 11:59pm PT). Once the campaign period is over, Wanderer will be available to both Annual and Monthly subscribers.