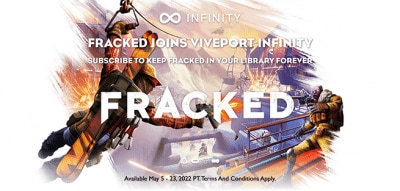 Fracked Storms onto VIVEPORT Infinity with Giveaway for Annual Subscribers
Explosiveaction-adventure shooter Fracked comes to VIVEPORT Infinity - but that's not all!
Annual subscribers can keep the title in their libraries beyond their subscription period if they launch the title before May 23rd. 
To take advantage of this limited time offer, you'll need to: 
Sign up to our VIVEPORT Infinity Annual plan before May 23rd, 11:59pm PT 

Launch Fracked at least once before the end date 
If you're a Monthly subscriber you can upgrade to Annual for the same deal, and if you're already an Annual subscriber then simply launch the game within the offer time. 
It's down to you and your trusty helicopter pilot to take down these interdimensional enemies who are out to destroy the world. Grab your gun and skis, it's going to be a bumpy ride. Fracked has nothing less than awesome action set pieces - duck and dive behind cover throughout intense run-and-gun sequences as you take down the Earth-threatening remote fracking facility. 
The adrenaline-pumping action doesn't stop there – you'll be skiing, ziplining and climbing your way through levels while piecing together what these interdimensional baddies are up to.  
Join VIVEPORT Infinity to not only play Fracked, but to get unlimited access to huge VR hits like After The Fall, Wanderer, Ultrawings 2, and hundreds more.