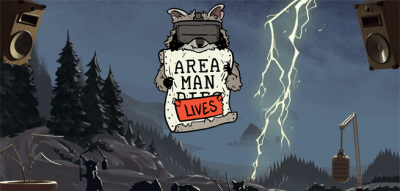 Area Man Lives Goes Live on VIVEPORT Infinity
Host your own radio show while investigating into the mysterious caller who keeps leaving voicemails in Area Man Lives, now live on VIVEPORT Infinity.
You'll find yourself in the middle of a strange ongoing drama as the radio host in an odd town on the Oregon coast, using vocal feedback in-game to record radio ads and respond to incoming calls.
You've got to keep all of this going while piecing together what the heck is going on with The Area Man. Is he someone you trust, or do you want to ruin his plans? It's a lot of responsibility, but don't worry – you'll have your trusty monkey gloves to help you through it all.
Earlier this month, Numinous Games revealed its star-studded cast, including New Girl's Max Greenfield as The Area Man, Community's Joe McHale as John Kunveni, and Pulitzer Prize winner, Ronan Farrow, as the local news reporter. Check out the hilarious reveal below!
Area Man Lives has been a hotly anticipated title for some time now, with the first parts of this episodic adventure originally debuting on the (almost ancient) Google Daydream, originally titled Untethered. It's also being published by the same studio who brought us Myst, Cyan Ventures.
Join VIVEPORT Infinity to not only play Area Man Lives, but to get unlimited access to huge VR hits like Fracked, Wanderer, Ultrawings 2, and hundreds more.